From the archive: Light Bike parade 2017
The DLECTRICITY Light Bike Parade is a 4-mile ride through Midtown Detroit that is FREE to the public. The Light Bike Parade is more than just a bike ride—it is your opportunity to be part of a mobile art installation at DLECTRICITY. Come with your bike already illuminated or grab a limited light kit the day of the ride (available to those who pre-register and on a first-come, first-served basis).
The parade starts in the heart of Midtown on the campus of Wayne State University and will wind its way throughout the district where the public will line the streets and enjoy the light show. It's time to start planning your bicycle light decorations and try to win one of the prizes. This year our judges will select the best decorations in these categories:
+ Most Creative Adult Bike Light Display
+ Most Artistic Bike Light Display
+ Most Creative Youth Bike Display (under 12)
+ Most Unique Bicycle Helmet Decoration
+ Best Team Themed Bike Light Exhibit (between 4-6 bikes)
+ Most Original Family Bike Light Exhibit (Adult/Kids)
PLEASE NOTE: This is not the typical Detroit-style bicycle ride or slow roll, but a short parade of riders displaying their glowing bike light artistry as they ride leisurely through the streets of Midtown. In 2014 we had over 1,500+ bikes participate in the parade–we expect similar numbers this year.
Please officially register online at EventBrite here.
The parade begins when it gets dark.
The DLECTRICITY Light Bike Parade is sponsored by: Shinola and Wheelhouse Detroit Bike Shop.
---
Check out our posts about how to prepare for the Bike Light Parade!
Blog Post 1 – The Parade is Back – Sept. 9
Blog Post 2 – Light Your Bike – Sept. 15
---
DJ Music by BEIGE, presented by The Seraphine Collective at the Bike Staging Area from 6:00 p.m. to ride time!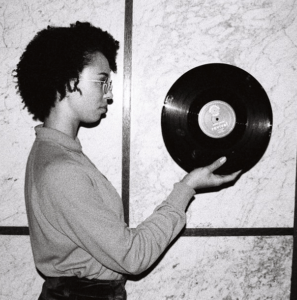 BEIGE was mentored by the incomparable Mother Cyborg, and currently reps Seraphine Collective, an inclusive, supportive and active community of feminists designed to foster creative expression and camaraderie among marginalized musicians and artists in Detroit. As a DJ, BEIGE covers ground ranging from gospel house, to classic pop, to Syrian wedding music, without losing sight of the dancefloor.
---
VOLUNTEER
Volunteer positions include:  
Bike Parade Set Up/Clean Up:  Assist with set up for bike parade registration and clean up of bike parade start location once ride commences.
Registration/Check-In:  Registration check-in and light kit distribution.
Info Booth/Participant Support:  Interact with riders as they prepare and wait for the ride to commence. Provide answers to any questions, help with decorations, and get riders lined up once decorated.
Ride Monitors:  Ride with parade to keep speeds down, as well as check and assist with any safety issues.
Route Street Monitors:  Support riders crossing at key intersections and assist riders in maintaining a flow within the group.
Parade Clean-Up:  Follow parade route and assist with pick-up of debris left along the route.
---